Scott brothers or how to take advantage of the misfortune of others and become a millionaire
His fortune began to grow thanks to the crisis.

Today they broadcast up to 11 different reform programs on television, including one with victims of Katrina, and it is estimated that they earn 7.5 million a year.

But in every story of winners there are losers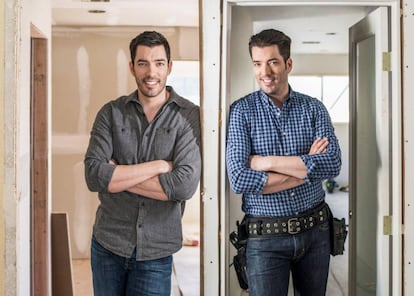 Manhood in the 21st century is no longer chopping wood. Virility in the 21st century is cutting firewood, making a piece of furniture with it and decorating the living room, yes, without disheveling your hair or stopping smiling. For more than a decade, brothers Jonathan and Drew Scott have been fulfilling the dreams of all the people who come to their television show to make a change and feeding those of the viewers who watch it in more than 150 countries. The house of my dreams (in English, Property Brothers : "The brothers of the property") and its other 10 spin-off programs earn the Scotts a salary of 7.5 million euros a year. Who said real estate speculation couldn't be sexy?
Drew and Jonathan discovered the joys that liberalism could offer at the age of seven, when encouraged by their father they lined wire hangers with nylon, which they sold door to door for 25 cents, and a woman bought thousands of them for export to Japan. After finishing high school, the brothers began to buy semi-abandoned houses to redecorate and sell them, with the profits Drew would try to succeed as an actor in Hollywood and Jonathan would produce magic shows. When his partner turned out to be a con man who performed the ultimate magic trick on him (now you see your money, now you don't), Jonathan filed for bankruptcy. He was 20 years old.
The 2007 crash was devastating for the middle class in America and Canada (where the Scotts were born), but an all-you-can-eat buffet for guys like Jonathan and Drew: people needing to sell their houses at rock-bottom prices, unable to pay their mortgage, and they were there to monetize the world economic collapse. Also in 2007 , reality shows , led by the Kardashians, established themselves as the planet's favorite form of entertainment and thus, La casa de mis sueño was born , the most watched house program in the world. His secret, according to Jonathan, is that "everyone lives somewhere" . And some need your help.
"You can't afford this house"
The structure is as simple as it is easy to see, whether the viewer arrives with the chapter in the middle or if they play six in a row. A married couple has decided that they are tired of fantasizing about the home of their dreams and that the time has come to live in it : a sentiment that any viewer can understand. Drew accompanies them to visit a house that fulfills all their wishes only to point out that it is worth triple their budget. That's where Jonathan comes in (who admits that sadism is his least favorite part of the show: "There are nicer ways to tell someone you don't have enough money"), to propose that they buy another one, price shot, and completely rebuild it.. It is a show as logistical as it is emotional: while the whole world collapses, it is comforting to see people building happiness.
The first programs did not catch on among the network's executives. One of them called the brothers "the crypt keeper and the one who is not hot", so they asked them to be "more presenters". The Scotts recorded two versions of each episode: one in which they had a formal, scripted attitude and another in which they joked more relaxed. The public always preferred those of the second group. Kathleen Finch, director of programming for HGTV (the third most watched cable channel in the United States, which broadcasts only content related to the home), remembers that it was important that the brothers were attractive, but not too sexy . "At first, Jonathan's hair was very distracting. He wore it long and dyed blonde, he looked like a model instead of a builder."
"It's safe content," explains Drew in a simplistic, traditional distribution of roles: " It's not so soft that the guys don't want to watch it , the kids like it because we're always goofing around, and the women enjoy it because they learn real things. " decorating knowledge.
Make a virtue of (other's) necessity
Even if it's by chance, the Spanish title of her show ( The house of my dreams ) is the same as the name of the Barbie doll's house. And the dream that feeds the program includes the two leading men who present it: with jaws that seem designed to preside over the White House, smiles that do not express with their eyes but rather show their teeth a lot (but go teeth) and two roles of masculinity that merging blue -collar America (Jonathan) and office America (Drew), the Scotts stand as the closest thing to a Ken that has ever existed in the real world.
What is seen on TV, however, takes certain fictional licenses. Buyers who apply to participate in the program must come with an old and remodelable house already located , so going to see an expensive one, Drew's role as a real estate agent and buyers' doubts about whether or not to get into the uberreform are a pantomime.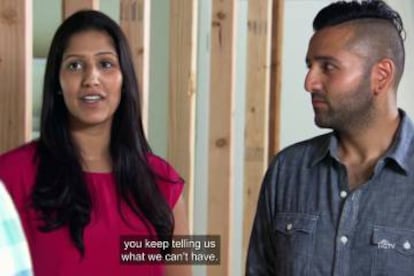 They are also required to bring a funny secondary character (a friend, a mother-in-law, a brother-in-law) who complements the story with comments such as "wow, what a disaster!", "wow, you're going to have to flush the toilet with a stairs" or "Wow, I can see your bedroom from the kitchen through that hole in the floor!" The surprises, the tensions and the joys are recorded over and over again until the take is considered good. As in any reality show , of course, the important thing is not that it is authentic but that it seems authentic.
The reform is paid for by the buyers, who also have to advance an extra 20% to cover the unforeseen events that will undoubtedly complicate the adventure. The humidity, the rusty pipes or the inconsistent walls that generate so much tension between marriages are setbacks that the workers already detected before starting the reform. But they must come as a surprise. Create drama. Generate television.
Buyers must also choose whether to renovate the bathroom or the kitchen (never both) and the program will only show the renovation of three or four rooms. The rest of the house manages off camera and at a slower pace. In order to have the part of the house that is seen at the end of the chapter ready, three different groups of workers work in parallel although the cameras only show Jonathan's team. The program contributes about 20,000 euros to help the budget and the Scotts do not charge for their services. They don't even need to, with a salary of 100,000 euros per episode in an average of 75 episodes per year.
From Hurricane Katrina to their own ranch: the Scotts' other businesses
In addition to The House of My Dreams , the Scotts have featured variants such as Buying And Selling (they renovate a family's house to sell it for more than they bought it for). Brother vs Brother (Jonathan and Drew compete to renovate houses, with their brother JD as referee; the one who loses must do "humiliating acts" like dressing up as a woman or dancing at a strip club for bachelorette parties). Property Brothers: At Home (the reconstruction of their own house, which they both share with Drew's wife in Las Vegas). Property Brothers: At Home On The Ranch (the renovation of the ranch where they grew up, where they also promoted their songs as a country duo).
There is no event with which a lucrative program cannot be made. Brothers Take New Orleans ( Hurricane Katrina Home Rebuilding Charity ). Home To Win (a competition similar to the Spanish show La casa de tu vida ). Drew's Honeymoon House (the preparations for Drew's vacation home with his new wife). Drew & Linda Say I Do (the wedding). Property Brothers: Forever Home (the transformation of the houses of families who want to continue living in them but in better conditions), or the next A Very Brady Renovation (where they will renovate the house where The Brady Bunch was filmed).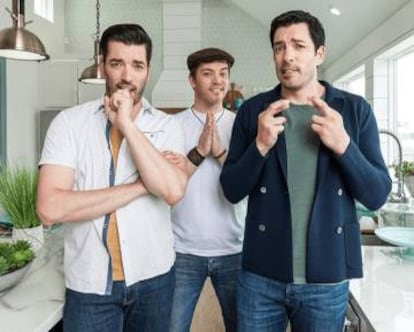 "Our dad gave us advice when we were little: if people tell you you can't do something, find five ways to do it ," explains Drew. And while it sounds like a self-help slogan for Mr. Wonderful mugs, it's understandable that the Scotts believe in that mantra blindly. Since Jonathan's bankruptcy, they've had everything they want from Milhouse, and even as they've taken chances on professional ventures, their empire has only grown: Scott Living, their furniture line, generated about $100 million in its first year. (and now they also sell it on Amazon ). The content they produce (including online tutorial videoswhere Linda, Drew's wife, shows how to make wedding decorations by hand) has more than 100 million viewers a month and its apps like Casaza , a virtual tour of dream houses where everything is for sale, attract 513 million users monthly.
The success of shows about selling, buying, renovating, decorating, rebuilding lies in the fact that they do much more than turn capitalism into entertainment. They are programs that sell aspiration. Because, effectively, everyone has a house and, besides, everyone has a house in which they would prefer to live . This television subgenre works for the same reason that people like to see photos of appetizing food, attractive people or paradisiacal landscapes: just because you will never access it (the naturalness with which these programs manage budgets of a million dollars is dizzying), doesn't mean you don't enjoy it as a voyeur .
The Scott brothers add the factor of healthy masculinity by pacing in front of the camera with the enthusiasm of two kids building a Lego, making jokes like "watch out, Drew, you're going to break a nail", but with the body of two computer-generated gentlemen. a computer program that designs dream sons-in-law.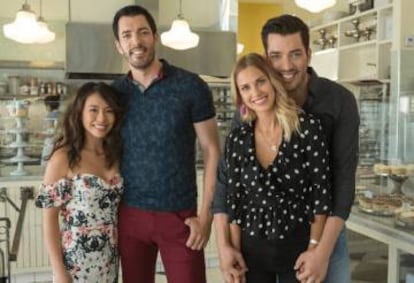 They are your product, your brand and your content. That's why, when Jonathan messed it up in a bar in North Dakota (they told him it was closing time), he confronted the bartender yelling "but don't you know who I am?", and they had to grab him out of the neck), for a couple of days his catalog of perfection was contaminated by a much less kind masculinity. After all, the guy is a black belt in karate. It is also known that he likes escape rooms . Because Jonathan and Drew are just like any regular guy, but in a better version. Or at least that's what you see on television. And if not, just repeat the shot.